Title: Know more about the Hill Forts of Rajasthan
Rajasthan reminds tourists of royalty and bravery, of epic battles and valiant heroes & when battles were fought, sacrifice and brutality came along, and sorrow and death were not far behind.
All these battles were fought to capture the hill forts of Rajasthan. If you paint a mental picture of what Rajasthan stands for, the hill forts will immediately flash before your eyes as powerful remnants of these long fought wars and battles.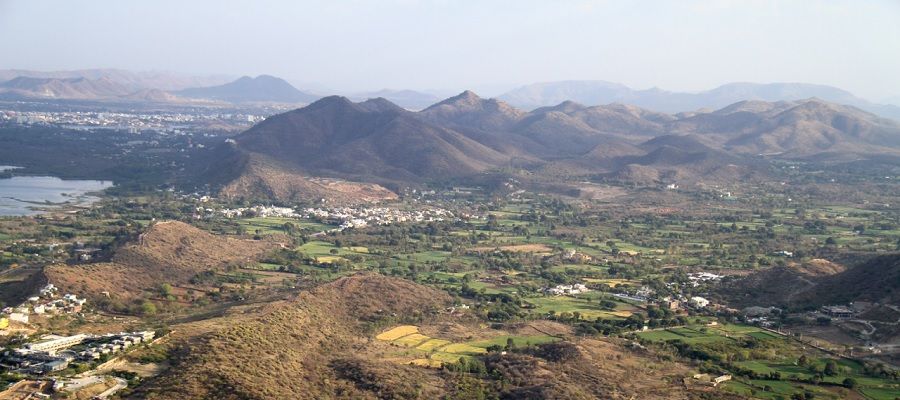 The hill forts were the first structures that were built by powerful Rajput kings, for protecting their kingdoms from enemy attacks was their first priority. Their elevated positions above rugged hills gave them an edge over enemies, & allowed them to monitor their surroundings.
These were not small forts by any means, but massive structures, powerful enough to withstand cannonballs & fireballs & large enough to accommodate large armies.
They were not only meant for defence, but their strategic location allowed them to control trade activities, & also served as royal residences, where kings & his families lived, along with ministers.
You will find these hill forts at innumerable places in Rajasthan, & some of them are so magnificent that they have earned them a place in the prestigious list of UNESCO World Heritage Sites.
Let's begin our journey & explore these fascinating hill forts of Rajasthan.
---
Hill Forts of Jaipur
1. Amber Fort & Palace
#1 in Hill forts of Rajasthan
Location: Amer, Jaipur
Hill name: Cheel ka Teela
When you will stand in front of Amber Fort of Jaipur, you will see a massive fort, as a colossal structure of orange and yellow, above Cheel ka Teela, or the Hill of Eagles.
You will have to climb a series of zigzag steps & pass the beautiful Maota Lake on your way, in the middle of which there is a fantastic landscaped garden. Or can even enjoy a elephant ride from main road till the top of the fort's main palace.
Amer, 11 km from Jaipur, is where the Amber Fort is situated, & it's also popular as Amer Fort. Raja Man Singh built the original structure of Amer Fort, but later on, his descendants, Jai Singh I & II made great improvisations & added significant structures inside the fort to make it more massive.
Giant walls of the fort, & its continuous ramparts running for many miles over small hillocks is the first impression that Amer Fort gives to onlookers. But more than power and huge fortification, it's the artistic brilliance inside the fort that will leave a lasting impression on visitors.
Suraj Pol & Jaleb Chowk
Huge gates such as Suraj Pol, with delicate Persian paintings will lead you to spacious courtyards like Jaleb Chowk, where armies used to gather after battles to celebrate their victory.
Diwan-i-Aam & Sheesh Mahal
Inside you will see more courtyards and palaces like Diwan-i-Aam, and the ingenious architecture of Sheesh Mahal, the striking palace with delicate mirror work, which illuminated the whole palace with just a single candle flame.
Mughal garden
There is a hexagonal shaped Mughal garden and private chambers for the royal ladies and for the king himself. Huge corridors and narrow passages will take you to the various palaces, and the walls are painted with the most delicate of frescoes and illustrations.
Today, Amer Fort is a major tourist attraction of Jaipur, and it's a must visit landmark that's both historic and having great archaeological importance.
2. Jaigarh Fort
#2 in Hill forts of Rajasthan
Location: Amer, Jaipur
Hill name: Cheel ka Teela
Jaigarh Fort is above Amer Fort, on the same Cheel ka Teela, or Hill of Eagles, on which Amer Fort is situated. Jaigarh Fort is in fact, 400 metre higher than Amer Fort, & was made to keep an eye on Amer Fort.
Jai Singh II built Jaigarh Fort in 1726 and is named after him.
Jaigarh Fort is more rugged in structure, and its long running rampart walls allowed soldiers to survey the surrounding regions for possible enemy attacks. In fact, both Amer Fort and Jaigarh Fort are connected with underground passages and are on the same grounds in Amer near Jaipur.
Inside there is a garden, palaces and chambers. You will find the world's largest cannon-on-wheels, Jaivana Cannon inside Jaigarh Fort.
If Amer Fort is all about artistic beauty, then Jaigarh Fort is all about power and strength. It still is the major tourist site of Jaipur, and among the most famous hill forts of Rajasthan.
3. Nahargarh Fort
#3 in Hill forts of Rajasthan
Location: Brahampuri Jaipur
Hill name: Aravali Hills
Nahargarh, which means abode of tigers, is a hill fort in jaipur, that can be seen from major tourist points in Jaipur like Jantar Mantar or City Palace.
Nahargarh Fort, perched up on the ridge of a hill, & in its time, this fort provided protection to Jaipur together with Amer Fort and Jaigarh Fort.
The fort provides breathtaking views of Jaipur city, and Madhavendra Bhawan, a palace inside the fort, offers artistic frescos & floral designs on the walls and ceilings.
Nahargarh Fort is an excellent combination of Indian & European architectural styles. But the most remarkable thing to watch out for in this fort is the Zenana quarters or the queen's chambers.
There are 12 such chambers, each 2 storey high, and interconnected in such a way that when the king visited a queen, no other queen would come to know of it.
Sunset Point at Nahargarh Fort
You will find many spots at Nahargarh Fort, from where you can get best pictures of Jaipur from height. And the fort team has also developed a place, just before Jaipur Wax Museum, that is named as Sunrise point.
Jaipur Wax Museum
From 2017, a Wax museum has also opened in Nahargarh Fort, which lets you take pictures with famous indian personalities (and a few from other countries) like Mahatma Gandhi, Bhagat Singh, Amitabh Bachan, Dhoni and also with Jackie Chan, Lionel Messi etc.
Plus, if you can seen the Sheesh Mahal in Amber Fort, then be ready to see an anther sheesh mahal in Jaipur, that is inside the Jaipur Wax Museum.
4. Moti Doongri Fort
#4 in Hill forts of Rajasthan, Jaipur
Location: Tilak Nagar, Jaipur
Hill name: Moti Dungri hill
In Hindi, Moti means pearls, and Doongri means a small hill.
Moti Doongri Fort is a fort of Jaipur, which is built on top of Hill of Pearls. If you view this fort from a distance, you will feel like seeing some Scottish castle in the heart of Rajasthan.
Perhaps, it was intended to look like one, when Sawai Man Singh II renovated an old fort and converted it into a palace as his royal residence.
The fort is still the privately owned property of the Jaipur royal family, & permission to enter the private chambers is strictly restricted. But the fort was the centre of many glamorous social parties attended by the elite of the society.
There is rich opulence in the lavish interiors, and you will find two temples, devoted to Lord Ganesha and Laxminarayan Temple.
---
Hill Forts of Jodhpur
5. Mehrangarh Fort
#5 in Hill forts of Rajasthan
Location: Jodhpur
Hill name: Bhakurcheeria
Mehrangarh Fort towers 400 feet above the city of Jodhpur, & it's one of the largest hill forts of Rajasthan.
It's in fact so enormous, that if you view this fort from a distance, you will only be able to make out a rough outline of the fort, and all you will see are vertically rising rocky walls carved out from a rocky mountain. But once you are near this fort, only then will the power and elegance of this fort overwhelm you.
Rao Jodha, the founder of Jodhpur, built this fort back in the year 1459 on a hill called Bhakurcheeria, or the Mountain of Birds. In its lifetime, this fort provided a natural defence due to its height, and it also was attacked many times, and the cannonball marks on the outer walls are proof of that.
Its thick walls can reach to a height of 120 feet at some points & inside there are winding lanes, and huge courtyards, and palaces of exquisite beauty like Phool Mahal and Moti Mahal.
You will see magnificent colored stained glass, painted frescos, hanging chandeliers, delicately handcrafted furniture, artistically chiselled stonework, and opulent furnishings.
There is a museum too, with medieval relics like howdahs, palanquins, armoury, paintings, royal attires, textiles, and more antique treasures.
---
Hill Forts in Jaisalmer
6. Jaisalmer Golden Fort
#6 in Hill forts of Rajasthan, Jaisalmer
Location: Jaisalmer
Hill name: Trikuta Hill
Jaisalmer Fort is so enormous that it was like a miniature city in itself. This fort was built in the year 1156 AD by Rawal Jaisal & even today, after 800 years of its construction, descendants of those who served in the royal courts of Jaisalmer, live in havelis inside the fort.
It's the only 'living fort' of India – one in which you can actually stay on your visit, in traditional mansions, now turned into hotels.
You will find bazaars inside, and winding lanes that will lead you to a huge temple complex, comprising of no less than 7 to 8 fabulous Hindu temples, constructed within the fort, and cannon points from where you can have a panoramic view of the entire Jaisalmer city.
Being situated right in the middle of the searing sands of the Thar Desert, Jaisalmer Fort is constructed out of yellow sandstone, and its protruding bastions and long walls are the first things that greet the tourists.
The yellow sandstone gives off an orange hue during sunrise and sunsets, making the fort look golden in color. Hence, it's also famous as Sonar Quila, or the Golden Fort of Jaisalmer.
It's one of the oldest forts of Rajasthan, and a major tourist site of Jaisalmer, having the distinction of being a UNESCO World Heritage Site.
7. Khabha Fort
#7 in Hill forts of Rajasthan, Jaisalmer
Location: Dedha, Rajasthan
Hill name: Name not available
Khabha Fort is in Jaisalmer & is a lesser known fort of Jaisalmer, Rajasthan. There's a bit of mystery attached to this fort, and this is enough reason why it makes this fort such an interesting fort.
Paliwal Brahmins, who lived here since 7 centuries suddenly deserted this fort some 200 years ago in 1825, and no one knows what made them leave so suddenly.
Today this fort lies in ruins on top of a small hill, and if you take a walk, you will see ramparts and bastions, doors and windows with intricate jaali designs, and there's a geological museum inside, where you can see displays depicting fossils and rock formations unearthed in this region.
The fort stands in the midst of barren sands, and it's an eerie feeling to visit Khabha Fort, one of the many hill forts of Rajasthan.
---
Hill Forts in Udaipur
8. Sajjangarh Fort
#8 in Hill forts of Rajasthan, Udaipur
Location: Fateh Sagar Rd, Malla Talai
Hill name: Bansdara Peak
Sajjangarh Fort is one of the most scenic ones in the list of Hill Forts of Rajasthan & is in Udaipur, You can see this fort from anywhere in Udaipur., as it's perched high of 3100 feet, on top of Bansdara Peak, and the high elevation commands some of the most stunning views of Lake Pichola, Fateh Sagar Lake, City Palace, and even Chittaurgarh.
It was originally built by Maharana Sajjan Singh in 1884 as an astronomical observatory to monitor the movement of monsoon clouds over Udaipur.
It's also called the Monsoon Palace, and within the white marble structure of the palace, there are palatial rooms and flight of winding staircases which leads to various chambers. Its marble walls and pillars have floral motifs etched on them, and some scenes of the famous James Bond movie, Octopussy were shot here in Sajjangarh Fort.
You can even go trekking to this fort through a winding mountain road, and visit the Sajjangarh Wildlife Sanctuary, which is located around this fort.
---
Other popular hill forts of Rajasthan
9. Ranthambore Fort
#9 in Hill forts of Rajasthan
Location: Sawai Madhopur
Hill name: Aravali hill
Ranthambore Fort is a 10th century built fort, which is near the famous forests of Ranthambore National Park & its situated on a hill, so you can see the surrounding regions of the park.
Today, visitors to this wildlife haven often stop to visit the ruins of this fort, and it's a major tourist attraction of Rajasthan. But it's a fort that was attacked and conquered many times by different dynasties
Ranthambore Fort location was so vital, that it protected the western parts of Rajasthan from enemies.
If you visit the ruins of Ranthambore Fort, you will see temples, and other structures. It's listed as one of the five UNESCO World Heritage Sites, together with other hill forts of Rajasthan.
10. Kumbhalgarh Fort
#10 in Hill forts of Rajasthan
Location: Rajsamand district
Hill name: Western aravalli hill
If you have ever wanted to see what a powerful fort looks like, you should visit Kumbhalgarh Fort near Udaipur.
Kumbhalgarh Fort is strong, powerful, impregnable, & it's everything that a fort needs to be. Its huge massive bastions and thick walls can be seen running for kilometres over hill ridges and valleys.
Kumbhalgarh Fort is built on hilly terrain, & surrounded by dry scrub forests. Its elevated position allowed soldiers to keep a close eye on the advancing armies, and even monitor faraway lands like the sand dunes of Thar Desert.
Rana Kumbha, a powerful Mewar king built this fort during the 15th century. The fort, due to its strategic location, came under continuous attacks by invading Mughals, & even from other Rajput rulers. However the defence of this fort was so strong, that hardly anyone could conquer it.
The huge walls of this fort are almost 38 km long, and are the longest walls of this world. There are seven huge fortified gates, and inside there are over 300 Hindu and Jain temples, besides water tanks, palaces and other prominent structures.
Kumbhalgarh Fort is now a popular day outing from Udaipur, and one of the most famous hill forts of Rajasthan. It's a heritage site declared by UNESCO together with other hill forts of Rajasthan.
11. Neemrana Fort Palace
#11 in Hill forts of Rajasthan
Location: Alwar district
Hill name: Aravalli hill
Neemrana Fort, one glance at this beautiful fort & it's so easy to see why it's one of the most glamorous of the hill forts of Rajasthan.
You can actually make out how the hill was cut on one side to make this fort, & the gradually rising construction and the rocky hill behind makes the most picturesque sights of Rajasthan.
Although the fort now has been converted into a world class luxury hotel, you can do a day trip to this fort, to see its magnificence in greater detail.
Neemrana Fort Palace was built in 1464 and over the years, it was ruined, but was rebuilt to make it look it what you see today.
Today, every suite and room has the finest luxuries that money can buy, & you will be able to walk back in history, when you explore the antique décor, traditional Indian furniture, rich furnishings and heritage architecture of this fort.
There are open courtyards, galleries, swimming pools, amphitheatre, restaurants, bars, gardens, lawns, and everything will make you feel like a king.
12. Chittorgarh Fort
#12 in Hill forts of Rajasthan
Location: Chittorgarh
Hill name: Eastern Aravalli hill
Chittorgarh Fort is one of the largest forts of India, & one with a history full of terrifying battles and heroic kings.
Perhaps no other fort has such a brutal and blood-soaked history as this fort has.
When it was at its peak of power, Chittorgarh Fort was regarded as the most impregnable fortresses of India, and such were its defences that even the mighty Mughal Emperor Akbar himself had to come to conquer it.
Chittorgarh Fort is historically a major fort of Rajasthan and one which is listed among the six prominent Hill Forts of Rajasthan to earn the prestigious World Heritage Site tag from UNESCO.
It rises over the surrounding plains on a 180 metre high hill. The fort is remarkable in many ways, and in this arid desert land, the fort once had over 80 ponds, wells and stepwells that could store water that could be used for 4 years.
But more than the ingenious ways to store water, the fort itself has a remarkable defence structure.
Enemies had to ascend a hill, and go through a long zigzag running road. After that came high walls, and then there were seven powerful gates build at varying altitudes, through which to enter the fort.
Inside there are over 60 structures such as palaces, temples, memorials, water bodies and famous landmarks such as Vijay Stambh, Kirti Stambh, Rana Kumbha Palace, Padmini Palace and the much photographed Gaumukh Reservoir.
13. Alila Fort
#13 in Hill forts of Rajasthan
Location: Bishangarh
Hill name: Aravalli hill
Mighty impressive and retaining its heritage wealth, Alila Fort in Bishangarh is one fine example of a hill fort which offers luxuries of a hotel.
Alila Fort is built on a hill, and its 2 metre thick walls can still be seen snaking below the fort, and there are tall turrets, watchtowers which were once used by soldiers to watch over the surrounding region.
Alila Fort is more than 230 years old, and the structure has elements of Mughal and Indian architecture.
Inside there are luxury suites, restaurants, terraces, lounges, spa and many other modern comforts travellers want.
14. Taragarh Fort, Bundi
#14 in Hill forts of Rajasthan
Location: Bundi
Hill name: East Aravalli hill
Talking of hill forts, you cannot leave out Taragarh Fort in Bundi. This fort is one of the most wonderful hill forts of Rajasthan, and one with some of the most awe-inspiring architectural marvels and construction.
Built on a 1426 foot high hill, Taragarh Fort is a shining symbol of age-old charm of royalty, and the grandeur of Rajputana heritage and supremacy.
You can have some fantastic views of Bundi from atop this fort, and when you go inside this fort, you will be amazed at the artistic beauty of palaces like Chhatra Mahal, Badal Mahal and many others.
You can find miniature paintings, whose art has withstood the test of time, and its colours have still retained their lustre and shades.
There are massive gates with detailed carvings. But it's the tunnels running everywhere around the fort that will interest any visitor. You cannot enter these tunnels, but they might have been used in medieval times for safely escaping the advancing enemies.
You will find water conservation facilities that were traditionally used during those times in this fort. In the ramparts and bastions, there is a massive cannon known as Garbh Gunjam.
If you want to know a slice of Rajput history, Taragarh Fort will be worth a visit in Bundi.
15. Bhangarh Fort
#15 in Hill forts of Rajasthan
Location: Alwar District
Hill name: Aravalli hill
Perhaps no other fort has attracted so much attention as this fort has. And it's popular for all the wrong reasons!! It's said to be haunted, and if you go there after the sun has gone down, you are sure to meet a ghost, or even may not come back.
It's not permitted even to go to this fort after sunset. And there's the curse of a sage too, that's adding to these unfortunate myths revolving around Bhangarh Fort.
But apart from the myths, the fort is a striking example of Rajput pride. This 17th century fort has well preserved temples, entry gates (pols), with amazing carvings.
There's a palace too, and walking among the ruins may take you back to ancient Rajasthan when these Rajput rulers were powerful enough to defend themselves against enemies.
16. Laxmangarh Fort
#16 in Hill forts of Rajasthan
Location: Adawala, Sikar
Hill name: Aravalli hill
This fortress towers over a rocky hill near Sikar. It's closed to public, as the royal family still stays in the fort. However, you can still see its outer structure, and even climb to a temple at the distance from the fort. Inside there are spacious chambers, garden, swimming pools, courtyard, which are still maintained by the royal family.
A fleeting glance of this fort will give you every impression of how strong this fort is, and the sheer rocks everywhere that you will find all around this fort, is a striking reminder of its defences.
---
A few less popular hill forts of Rajasthan
17. Ajabgarh & Thanagazi Fort
#17 in Hill forts of Rajasthan
Location: Alwar
Hill name: Aravalli hill
A mere glance of the ruins of Ajabgarh Fort and you will feel like seeing a shadow of the famous Bhangarh Fort. The ruins are nonetheless, spectacular, and it's on the top of a rugged hill.
Thanagazi Fort is also a ruined fort, 400 years old, and you will see this fort on your visit to Sariska Tiger Reserve in Alwar district of Rajasthan.
Like other forts, Thanagazi Fort has huge bastions and ramparts which were used as the primary defences of the fort. It's location on top of a rocky hill allows scenic views of surrounding country.
18. Gagron Fort
#18 in Hill forts of Rajasthan
Location: Baran, Hada
Hill name: Eastern Aravalli hill
Gagron Fort is one of those forts, which can spur your imagination and take you back to that glorious age of medieval Rajasthan.
This incredibly scenic fort is located near Jhalawar in Rajasthan and though it's now a ruined fort, nevertheless, it's very well preserved, and spell-binding.
It's magnificent architecture and medieval fortifications are believed to date back to the 7th century, and today, Gagron Fort is listed as one of the hill forts of Rajasthan to have earned a place in the prestigious list of UNESCO World Heritage Sites.
This fort is built near the confluence of Ahu and Kali Sindh rivers, and is surrounded by waters on three sides, and a deep moat on the fourth.
Picturesque mountains are all round this fort, and a walk through the surrounding forests will greet you with calls of birds and animals.
The fort is right next to the waters of the river, and it's so enchanting a scene, and so photogenic, that it makes the whole experience of visiting this fort incredibly exciting.
The bastions and ramparts that overlook the flowing waters, remind visitors of battles and human sacrifices.
There is a temple inside the fort, and a shrine of a famous Sufi saint close to the fort.
More forts that we will add in this post:
19. Hill Fort Kesroli, Alwar
List of Hill Forts of Rajasthan:
| S.No | Hill Fort Name | Hill Name | Fort Location |
| --- | --- | --- | --- |
| 1 | Amber Fort | Cheel ka Teela | Amer, Jaipur |
| 2 | Jaigarh Fort | Cheel ka Teela | Jaipur |
| 3 | Nahargarh Fort | Aravali Hills | Jaipur |
| 4 | Moti Doongri Fort | Moti Dungri hill | Jaipur |
| 5 | Mehrangarh Fort | Bhakurcheeria | Jodhpur |
| 6 | Jaisalmer Golden Fort | Trikuta Hill | Jaisalmer |
| 7 | Khabha Fort | Not Available | Jaisalmer |
| 8 | Sajjangarh Fort | Bansdara Peak | Udaipur |
| 9 | Ranthambore Fort | Aravali hill | Sawai Madhopur |
| 10 | Kumbhalgarh Fort | Western Aravalli | Rajsamand |
| 11 | Neemrana Fort Palace | Aravalli hill | Alwar district |
| 12 | Chittorgarh Fort | Eastern Aravalli | Chittorgarh |
| 13 | Aravalli hill | Aravalli hill | Bishangarh |
| 14 | Taragarh Fort | East Aravali | Bundi |
| 15 | Bhangarh Fort | Aravalli hill | Alwar |
| 16 | Laxmangarh Fort | Aravalli hill | Adawala, Sikar |
| 17 | Ajabgarh & Thanagazi Fort | Aravalli hill | Alwar |
| 18 | Gagron Fort | East Aravali | Baran |
| 19 | Hill Fort Kesroli | Kesroli | Alwar |
| 20 | | | |