Ahmedabad city is 265 km away from Udaipur and just 148 km away from Rajasthan border. And thus many travellers from Mumbai, Pune, Bangalore etc. are not opting to start their Rajasthan trip from Ahmedabad.
You can plan a trip like Ahmedabad to Udaipur > Jaisalmer > Jodhpur > Bikaner > Jaipur > Chittorgarh/ Bundi > back to Ahmedabad or catch returning flight from Jaipur or Udaipur, and Bundi is central point between Jaipur & Udaipur, or catch a train from Kota, 45 km from Bundi and is well connected with all major train stations.
Below we have shared the list of Top tour operators offering the best Rajasthan tour packages from Ahmedabad.
1: Rajasthan Car rental from Rajputana Cabs
Rajputana Cabs is a registered tourist taxi firm, which is offering 5 days to 11 days Rajasthan tour package, and the best part is that they are offering their own car for whole Rajasthan trips.
They are offering 4 nights/ 5 days, 7 nights/ 8 days, 9 nights/ 10 days, and 11 nights/ 12 days Rajasthan tour package from Ahmedabad.
All these packages are starting from Ahmedabad and come with an option to finish the tour from Jaipur, Jaisalmer, Udaipur etc.
You can contact the team of Rajputana Cabs Ahmedabad at +91 8209351141,
or visit the site at https://rajputanacabs.in/rajasthan-tour-by-car/from-ahmedabad/
2: Chetram Voyages Jaisalmer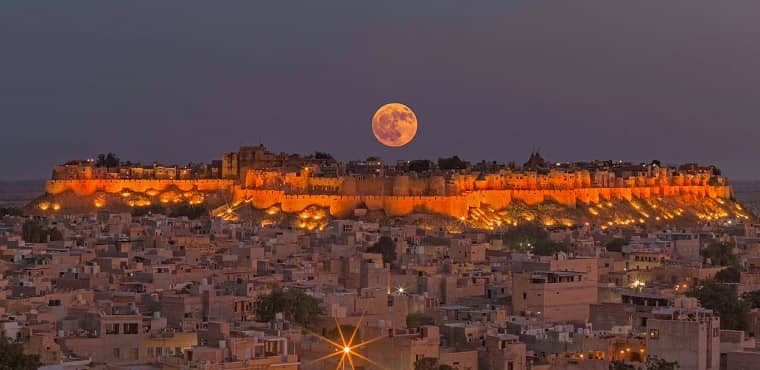 Chetram Voyages is another excellent tour package company, which is based in Jaisalmer, but offering tour packages for whole Rajasthan from Delhi, Jaipur and Ahmedabad too.
From Ahmedabad they are offering all inclusive tour package for Rajasthan tour, Jaisalmer tour, and these guys also own a desert camp in Sam, by the name of Chetram desert camp, which you should definitely checkout at chetramdesertcamp.com
Another advantage of booking a Rajasthan tour package from Ahmedabad with team Chetram is that they have excellent tour guides in all Rajasthan cities which offer an amazing view of heritage, food & genuine shopping sites.
You can contact these guys at chetramvoyages.in or call them at: 9289630990/ 9828627722.
3: R K Vacations, Ahmedabad
If you are a local of Ahmedabad and want to tour Rajasthan along with Golden Triangle tourist cities, then you can contact R K Vacations, who are actually situated in Ahmedabad itself.
They have various tour packages, both domestic and international, but their Golden Triangle is the best package where you can tour all three cities of Jaipur, Agra and Delhi and do sightseeing in all these cities.
The major advantage of booking a Rajasthan tour package with them is that they have all-inclusive holiday packages which includes meals, hotel booking, transportation in cabs, plus they also have car rental service. They can guide you with the best Rajasthan tour package with competitive prices and rates.
4: Flamingo Travels, Ahmedabad
You can contact Flamingo Travels in Ahmedabad for the best deals on Rajasthan tour packages. Their website is packed with features such as search bar, travel guides, blogs, videos etc.
But the best thing about them is that they have come up with so many exciting Rajasthan tour packages with a unique theme for every tour such as fort tour, lake tour, best of Rajasthan tour etc.
They offer private vehicles for all these tours and you can contact them and do bookings right away. An interesting thing about their website is that you can also search for a tour with a theme, budget, season and month of travel, so that you yourself can decide the type of tour that you want to go for.
You can plan honeymoon tour, luxury tour, family tour, senior citizen tours also with them.
5: Riya Travels, Ahmedabad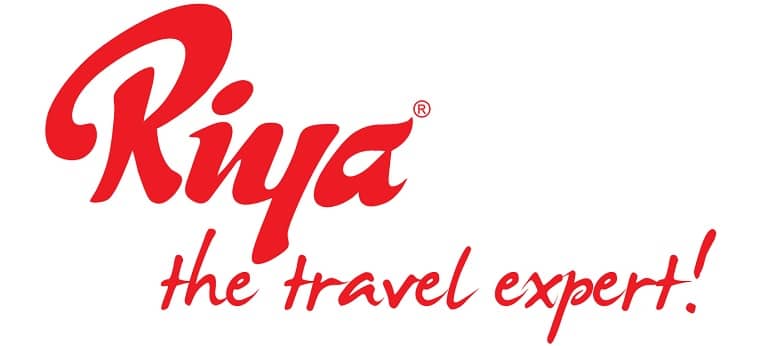 You can expect some really good tour packages for a tour of Rajasthan from Riya Travels. Riya Travels is headquartered in Ahmedabad, and they have come up with few very good choice of Rajasthan holiday packages.
You can find 6 days to 9 days Rajasthan tour packages with them. You can buy a complete Rajasthan tour package along with hotel reservation, car rental facility, sightseeing tours, meals etc.
You can contact them on their customer care number 8080-266-266 or even find them on social media. The best thing about Riya Travel is that you can customize your tour and they can make all necessary arrangements and give you the best deals on travel bookings.
You can also approach them for exciting flight deals also. For more details you can check out all the FAQ they have given on their website.
6: Vibrant Holidays, Ahmedabad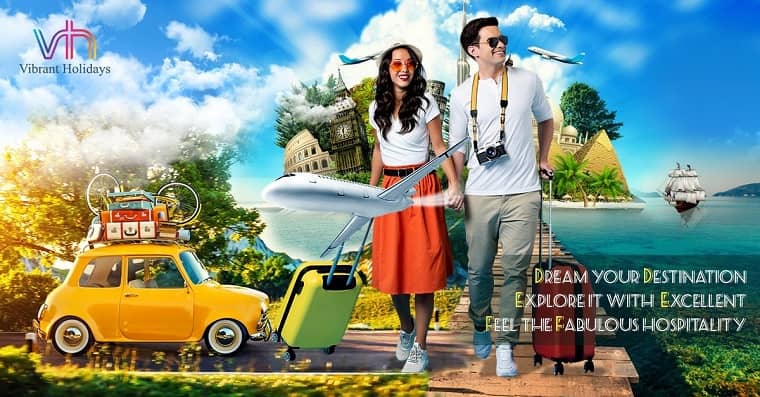 You can also find a Rajasthan tour package for your Rajasthan holidays with Vikrant Holidays. They are also based in Ahmedabad, and you can find attractive discounts and deals on their tour packages.
They have themed tour packages where you will find a unique them to their tours. They have short tours which last 3-4 days to long Rajasthan tours which last 9 days or more.
They will even suggest you the best Rajasthan tour for you based on your feedback and suggestions. You can dial them on their contact number 1800 313 4262 and they are also available on email. You can also book the contact form on their website and fill in the details that you require for your Rajasthan tours.
7: Akshar travels Pvt Ltd, Ahmedabad
Akshar Travels Pvt Ltd is very famous tour agency in Ahmedabad and they have quite a lot of Rajasthan tour packages that they offer with different themes. You will find 3 day tour package to 11 day tour package also.
You can choose from various themes such as forts, temples, wildlife, heritage tours and they will customize it according to the places that you want to visit and things that you want to experience from the tour.
You can see the highlight of every tour at once and get details about sightseeing places also at a single glance. They can do all arrangements for your in hotels, book safari, arrange for meals and cabs for transport and all other necessary tour requirements.
They are highly recommended tour travel agency for Rajasthan tours.
8: SOTC
The best thing about a reputed travel agency such as SOTC is that they offer the best Rajasthan tour package with customized itinerary that few others are able to offer to their guests. Hence, you will find more than 10 such Rajasthan tour packages with them and almost all of them are customizable.
They content-rich website gives a ton of information and details about the latest guidelines and travel procedures when it comes to tour of Rajasthan.
You will find travel guides, blogs, Rajasthan FAQ, along with hotels for stay, sightseeing places for all Rajasthan tour packages on their website.
You also have the option to make the tour standard, deluxe or premium. Their toll-free number is 1800 209 3344. They also give travel insurance in all their packages.
9: Cox & Kings Ltd
Cox & Kings Ltd has office in major Rajasthan cities like Jaipur and you can book a fully customized Rajasthan tour with them. Cox & Kings is very famous international tour agency and you can benefit from their years of experience in conducting group tours.
They also offer Golden Triangle tours with other places like Ranthambore etc. You can also book a private tour if you are comfortable with large groups.
There are interesting bits of details like travel guides, destination info, brochures, holiday search etc. You can locate them in Jaipur and also call on their toll-free number 03330 601 813 and talk to their experts who will help you finalize your Rajasthan trip for you.
10: Thomas Cook (India) Ltd
Thomas Cook offers the best travel deals on all their tour packages and you can also expect the same when you book a Rajasthan tour package with them.
You can book a Rajasthan tour package for 8 days and also for 12 or more days, and they can also customize it according to your preferences. The best thing about their tour packages is that you can include air travel also if you want a quicker travel time.
They have a very rich content structure in their website and you can read so much about Rajasthan along with travel guides, info about Rajasthan tourism, latest travel guidelines relating to COVID-19 and many videos and Rajasthan photos.
You can call them on their toll-free number 1800 2099 100 and also leave your mobile number or email address in case you want them to call you at your convenient time.
Best months to visit Rajasthan
Much of Rajasthan is a desert and very hot climate makes it difficult to tour Rajasthan during the summer months. You should definitely avoid summer, monsoon months and start preparing for your Rajasthan tour in the months of November to March.
This is winter time in India, and especially in Rajasthan, this season is best to travel to various places and do most of the activities here. Days are cool and sunlight and heat are not so much that you cannot travel outdoors. You can do most activities like sightseeing, shopping, camel safari, adventure sports without any trouble at all.
You should be able to see colourful festivals and fairs like Pushkar Mela, Mount Abu Winter Festival, which are held during winter months. But you should also visit Rajasthan at the time of Dussehra and around the time of Holi or Diwali. That's the time when you can see various colors of Rajasthan and its people come out of their homes and the temples and streets are full of these colourful tribal people of Rajasthan.
Teej, Gangaur Festival are celebrated in Udaipur, Jaipur, Jodhpur during April. You can also visit Ajmer in the month of February if you want to see the Urs at Ajmer Sharif Dargah.
Best itineraries for Rajasthan from Ahmedabad
Rajasthan is very close to Ahmedabad. In fact, it is so close that you can catch a cab and drive from Ahmedabad and reach Mount Abu or Udaipur in just under 5 hours. So, if you are planning for a tour of Rajasthan from Ahmedabad, you can do that quite easily.
A Rajasthan tour from Ahmedabad is, in fact, the most popular and closest tour that you can plan from Ahmedabad. So here are some very popular itineraries that we have planned for you if you are planning a tour of Rajasthan from Ahmedabad.
What is the greatest benefit of our Rajasthan tours that you can start your Rajasthan tour from Ahmedabad in such a way that you do not have to necessarily come back to Ahmedabad. You can plan your end of tour at any other like Jaipur, Udaipur, Delhi etc.
You can also customize your Rajasthan tour by giving us a call on +91 9983010250. Also, visit https://rajputanacabs.in/rajasthan-tour-by-car/from-ahmedabad/ which will give you more detailed info.
5 Day tour of Rajasthan from Ahmedabad
Here you will stay for 2 nights each in Udaipur, Jodhpur and Jaisalmer
8 Day tour of Rajasthan from Ahmedabad
Here you will tour places like Jaipur, Udaipur, Jodhpur, Jaisalmer in Rajasthan. The plan is to stay for 2 nights each in Udaipur, Jaisalmer and Jaipur, and 1 night in Jodhpur.
10 Day tour of Rajasthan from Ahmedabad
In this third tour itinerary of Rajasthan from Ahmedabad you will visit major Rajasthan cities like Jaipur, Jodhpur, Jaisalmer, Udaipur along with a visit to Ajmer and Pushkar, and Bikaner.
Best tourist sites to visit on Rajasthan trip
Most tourists very well know that Jaipur, Jodhpur, Jaisalmer, Udaipur are the top tourist destinations in Rajasthan. It is very true that you will find the most famous historical forts and other sightseeing tours in these famous cities. So here is a glimpse of the places that you can visit in these cities.
Places to visit in Jaipur
Hawa Mahal
Jaipur City Palace
Amer Fort
Jantar Mantar (original observatory)
Albert Hall Museum
Nahargarh Fort
Jal Mahal
Birla Temple
Jaigarh Fort
Galta ji Monkey Temple
Places to visit in Jodhpur
Mehrangarh Fort
Umaid Bhawan Palace
Jaswant Thada
Ghanta Ghar
Mandore Gardens
Guda Bishnoi Village
Machiya Safari Park
Osian Village
Places to visit in Udaipur
Udaipur City Palace
Lake Pichola
Sajjangarh Palace
Bagore ki Haveli
Eklingji Temple
Jag Mandir Palace
Jagdish Temple
Fateh Sagar Lake
Saheliyon ki Bari
Neemuch Mata Temple
Maharana Pratap Smarak
Taj Lake Palace
Haldighati
Kumbhalgarh Fort
Nathdwara Temple
Ranakpur Temple
Places to visit in Jaisalmer
Jaisalmer Golden Fort
Patwon ki Haveli
Gadisar Lake
Sam sand dunes
Nathmal ki Haveli
Kuldhara Abandoned Village
Vyas Chhatri
Desert National Park
Tanot Mata Temple
Jaisalmer War Museum
Bada Bagh
Amar Sagar Lake
Salim Singh ki Haveli
Lodhruva Temple
Khaba Fort
Pokhran Fort
Desert Culture Centre and Museum
Jaisalmer Government Museum
But however, there are so many other places in Rajasthan where you can see interesting forts, palaces, temples, wildlife sanctuaries, sand dunes. They are given below so that you can plan your tour and include these places in your Rajasthan tour itinerary.
Bikaner
Bikaner is famous for its royal mansions called havelis like Rampuria Haveli. Bikaner also has the famous Junagarh Fort and Gajner Palace, which are very huge buildings that were built for the royal kings. But Bikaner is also the place where you will find Karni Mata Temple, which is also famous as the Rat Temple.
Bikaner is full of camels and you can have more info on camels at National Research Centre on Camel. But you can see camels in full decorations at Bikaner Camel Festival. The royal memorials at Devi Kund Sagar and Bhandasar Jain Temple are famous attractions in Bikaner.
Bundi
Bundi might look a very small tourist destination when compared to other top places like Jaipur, Jaisalmer etc. But when you see the mighty impressive Taragarh Fort, you can come to know of what Bundi has in store for you. Bundi is like a relaxing place where people are in no hurry whatsoever.
Here you can visit rich old wall art at Bundi Palace or Chitrashala. Bundi is a place that is full of old step wells which are Baori in local language. Rani ji ki Baori is one step well that you can still visit in Bundi.
You can find relaxing places like Nawal Sagar Lake or Lake Jait Sagar where you can sit for some time and admire the wonderful scenery all around. There are more places in Bundi like Chaurasi Khambon Ki Chhatri and Ramgarh Vishdhari Sanctuary.
Mount Abu
This is the one and only hill station in Rajasthan, and when it is the peak time of winter, the lakes in Mount Abu freezes and turns into ice.
Mount Abu is famous for the most wonderful temples in Rajasthan called Dilwara Jain Temples. These temples are so intricately designed with sculptures and stonework that it has become a must-see attraction in the whole of Rajasthan.
Nakki Lake is famous for its boating and you can go trekking on Guru Shikar which has the highest point in Aravalli range of mountains. But most tourists at Mount Abu make it a point to visit one of the most unusual and unique places and it is the Toad Rock.
Here, rocks are in the shape of a toad when seen from a certain distance. Mount Abu is very famous for its scenic beauty and tourists from Ahmedabad regularly visit Mount Abu as it is the closest hill station to Gujarat.
Bharatpur
Bharatpur is near Agra, and it is best known for India's most famous bird sanctuaries. But there is so much more to see in Bharatpur like Lohagarh Fort. This impregnable fort is so powerful that enemies could not find a way to conquer it during battles.
Bharatpur is known for its Brij Festival during which Raslila dance is performed by people. Other attractions of Bharatpur are Banke Bihari Temple, Deeg Palace, Ganga Mandir, and Laxman Temple.
Ajmer-Pushkar
Rajasthan is famous for its age-old traditions and historical events. One place where you can witness this to full extent is Ajmer and Pushkar. Both these places are very close to each other. They are very full of Hindu temples and Sufi dargahs. Ajmer Sharif Dargah is famous memorial of the great sufi saint Khawaja Moinudeen Chisti.
Urs is the best time to visit Ajmer when you can watch sufi singers sing devotional songs.
Similarly Pushkar is famous for its Hindu and Jain temples. Pushkar is also famous for India's only Brahma Temple. You must visit Pushkar during Pushkar Camel Fair during which thousands of camels are brought and sold at the fair.
Ranthambore National Park
Rajasthan has the finest national parks in India and that is Ranthambore National Park. The tigers are the most famous attraction of this park. You can go on a jeep safari and go deep into the jungles of Ranthambore to spot these tigers in their natural habitat.
Shekhawati region
Rajasthan is such a wonderful tourist destination that you can also go for offbeat tours. Take for example the Shekhawati region, where the most famous attraction are not the forts but the art and paintings on the walls of monuments.
The towns of Shekhawati region have fresco paintings and mural art of such high quality that visiting Shekhawati region is like visiting an open air art gallery. You will find age-old mansions, temples, forts, step wells that have the most elegant and rich paintings and wall art.
Places of special mention
Sariska National Park
Salasar Balaji Temple
Bhangarh Fort
Gagron Fort, Jhalawar
Kota
Khimsar sand dunes village
Neemrana Fort
Alwar
Chittorgarh Fort
Chand Baori
Barmer
Best food to try in Rajasthan
It is assumed that you should try Rajasthani food when you plan a tour of Rajasthan. Whichever city you visit in Rajasthan has one of another typical street food delicacy that you should try. So here are some top Rajasthani food that you should try in Rajasthan.
Daal Baati Churma
Mawa Kachori
Laal Maas
Mirchi Bada
Pyaaaz ki Kachori
Gatte ki Subzi
Ghevar
Mohanthal
Malpua
Ker sangri
Papad ki subzi